COMMERCIAL ACCESS CONTROL
Commercial access control system enables employers to restrict access to certain areas of their building with intelligent door readers and encrypted smart cards, it also enables you to set varying levels of security depending on individual employees' needs and clearances. Employees can use a secret code/PIN, Biometric or card identification to gain authorisation to restricted areas when required. Door access readers are physically fitted with special screws with the wiring tucked away neatly and protected. Some readers have tamper alarms that go off if they are removed or physically altered.
Netsol Ghana provides a modern access control system that is flexible and works well for every business types. Our high quality access control systems are integrated with surveillance cameras which record anytime an employee uses a credential to access the doors..
SOLUTION SCENARIO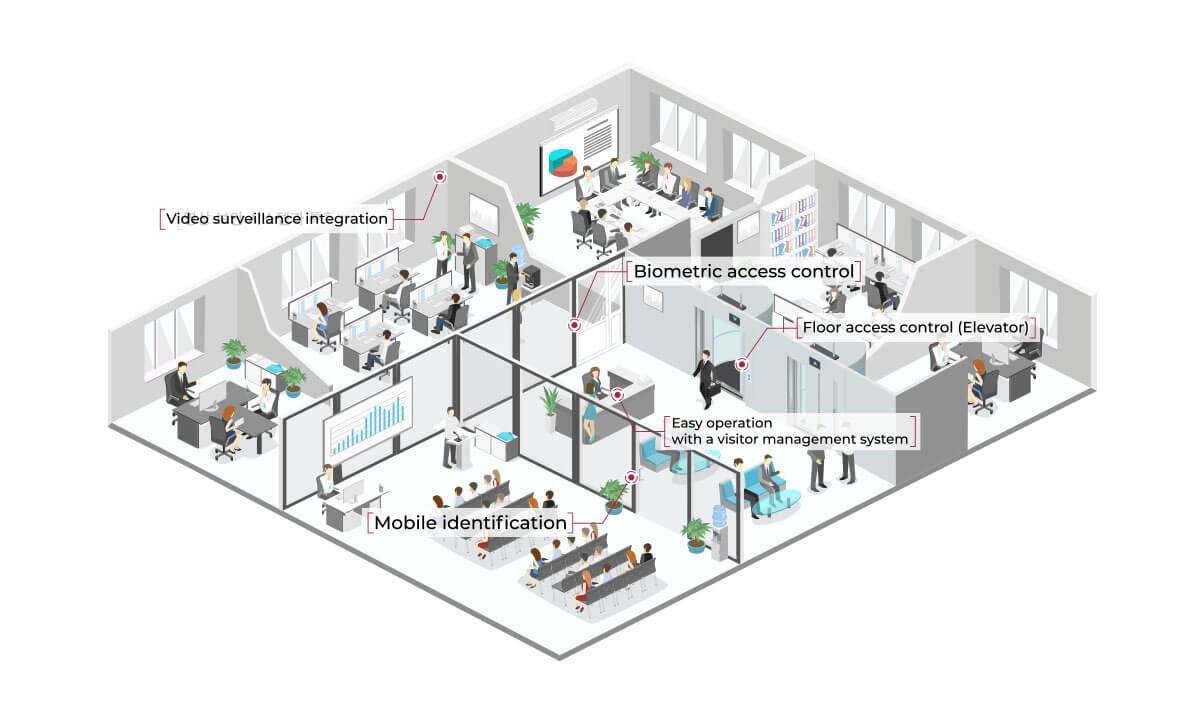 SOLUTION OVERVIEW
Operating a commercial office facility means ensuring the necessary safety, controlling processes optimally and offering the highest possible level of convenience coupled with maximum efficiency. Using Suprema BioStar 2 Solution, it provides a comprehensive range of secure, reliable and convenient access control features to a modern office environment. From smaller offices to multi-site corporations, Suprema delivers bespoke access control security solutions to meet dynamic needs from system integrators, installers, and end-users.

Access control systems in businesses or organizations are financially feasible and cost effective, they help cut down cost of security personnel and fixing expensive locks. Additionally, lost keys or physical credentials can be costly to replace Implementing an access control system with mobile app access or key codes can help you avoid unnecessary cost.